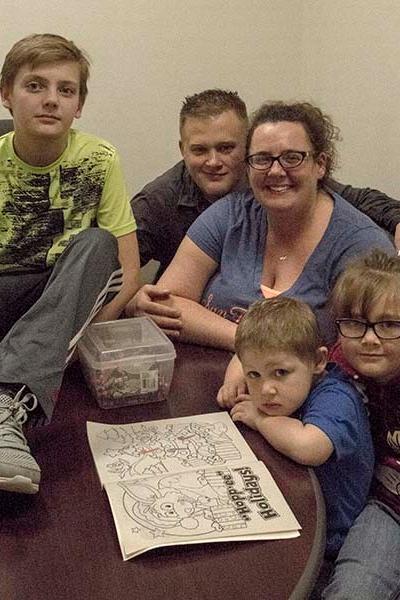 DEDICATED NOVEMBER 9, 2017 - Charlene and Chris Herrod became a Habitat for Humanity Partner Family three years ago. While working to build up their requisite hours to qualify for a new home for their family of five, a large, older home, a candidate for renovation, became available. A generous donor gave the house to Habitat and now Charlene and Chris are anxious to get to work, as soon as funding can be secured for the renovation.
Charlene and Chris have three children: Landon (11), Ava (6) & Ethan (3). The family currently rents, but have been dreaming of a bigger home where they can spread out a bit and host more family gatherings. "I think my parents are more excited than we are," Charlene joked, on holiday celebrations in the new, old home.
Their "new" dream home is located on Springfield's north side in an historic, tree tree-lined neighborhood near a park and schools and is walking distance to Charlene's workplace. The house is a two-story, with three bedrooms, 1 ½ baths, a front porch, and fenced backyard for the children to play in. The house was gutted before it was donated to Habitat, so once enough money is raised for the renovation, Habitat volunteers will work with Charlene and Chris to rebuild the interior.
The couple has had help in their Habitat experience from Deb Weiner, a Habitat volunteer and nurturer, who accompanies them to their home ownership classes. She is a Habitat homeowner, as well, so she has been able to share the ins and outs of the process.
The couple did not expect to get a home so soon. This house became available only recently and was just the right size for the family. Although they don't yet know when renovation work will begin or even when they can move in, Charlene and Chris are happy to have time to think about what they want it to look like. It will be an older home with character and all the modern conveniences the young family will need.
"I want to maintain the character of the house," she said, "and I guess we will have more time to work out the details, to think about how we want it to look". Their children are planning too. Ethan would like his bedroom to have a theme with airplanes and helicopters. Ava wants her bedroom to be painted red and she wants a pink umbrella in it. As the "big brother", Landon has been doing his part to contribute to the family – he assisted with Habitat's Summerfest, was an integral part of the delivery service for the Drive-Thru Chicken Dinner fundraiser and is hoping for a blue and yellow bedroom.