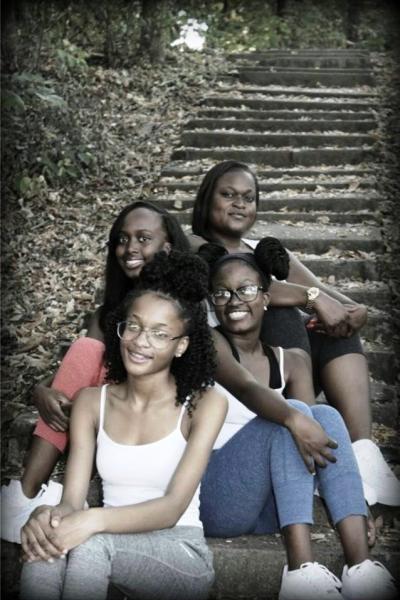 DEDICATED -  JUNE 27, 2019 - Sonia Kenney, a young mother with three teenage daughters, is working, going to school, and planning for the next phase of her life as a Habitat homeowner.
Sonia is ready for a home of her own and Habitat for Humanity of Sangamon County has approved her application to become a Partner Family.  "I definitely dropped a tear when I heard," she said.
After renting houses in Springfield for several years, she is ready to settle into a home where she can be more in control of her life and enjoy the busy lives of her daughters, Kaliyah Kenney, 16; Katryce Temple, 14; and Kanise Temple, 13, without worrying about additional moves to ensure a safe environment for her family.  Sonia works as a para-professional in Springfield, takes classes at the local community college and ultimately hopes to attend Mortuary School, a dream she has had since she was a teenager.
Sonia applied to the Habitat program last year and has worked diligently helping to build or renovate homes for others, as well as taking Habitat education classes to qualify for her own house.  She said the money management classes were especially important because they allowed her to really plan for her future.
"I'm so lucky that they (Habitat) have worked with me because of school and my kids' sports and activities," she said. My (program) Nurturer has been awesome in helping me any way I need."
Sonia hopes for a home in a great neighborhood close to her daughters' schools, so there will be minimal disruption in their lives.  She wants to have a little extra space for her mom when she comes to visit.
"I want a place to call my own," she said.  "I want a place that in 20 years my kids can say, 'We're going back to mom's house."
"My advice to others, don't ever give up, ever, because if you work hard you can make your dreams come true," Sonia said.  "I'm definitely trying to complete everything even if I'm exhausted, because I know it will be worth it in the end."