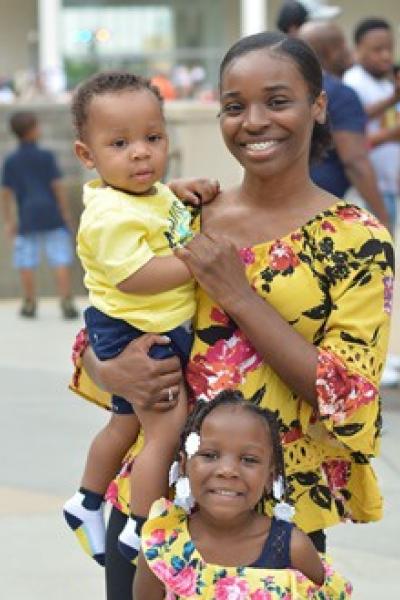 DEDICATED OCTOBER 10, 2018 - A home of her own means security for Disheba Allison and her family, and with the support of Habitat for Humanity of Sangamon County and local Methodist churches, she could be moving in before the end of the year.
Disheba is a young mother of two children: a son, Bryson, who is one and his sister, Kailyn, who is five. "I live with my mom, but I want my own place and rooms for my kids," she said.  "I grew up in a home my mom owned and I want the same for my kids. It means security to me."
Disheba works in customer service for a company in Springfield. She heard about the Habitat home building program just over a year ago, when she was still expectant with her son. She decided that if she worked hard she could get a home of her own. She contacted Habitat and to her surprise, was accepted into the home ownership program sooner than she expected. She worked to build up sweat equity hours throughout her pregnancy and maternity leave, and qualified for a home to be built this year.
She said she learned a lot about budgeting and ways to build her credit from the Habitat classes that are required for all Partner Families. She also credits her family Nurturer for her help along the way. "She's been really hands-on. I appreciate her so much. She's like a second brain for me, helping me think things through," Disheba said.
Disheba is in the process of completing her sweat equity hours and has selected the lot for her new home.  Her next step will be planning the interior and thinking about furniture placement.  Her new, three bedroom home will be built in an older, established neighborhood in Grandview.
She has a dream of a home for her own family and she's very close to realizing it. "I always wanted the kids to have their own rooms and to have a yard to play in," Disheba said. "They'll be able to grow up in their own space now," she said.