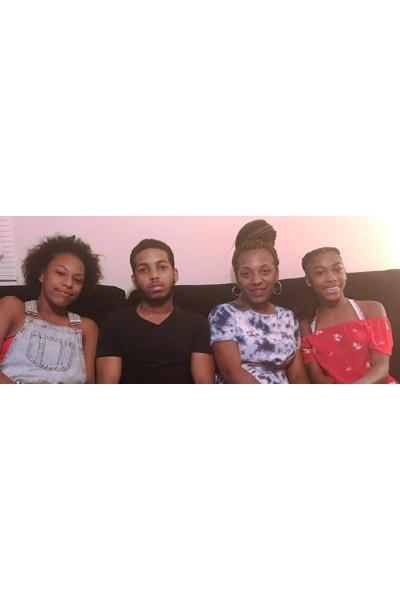 DEDICATED SEPTEMBER 19, 2018 - When Keisha Penny found out she would be able to purchase a home through Habitat for Humanity of Sangamon County, it was like her long-held dream came true. "I felt like I had won the lottery," she said, describing her emotions when she found out she was eligible for a Habitat house this year. "I never win anything, so this is so big."      
Keisha is employed as a health counselor in Springfield, is taking online classes toward a college degree and is a mother of three children. Travis, 21, a former Marine, is enrolled at SIU/Carbondale; Anyae, 15 and Aniyjah, 13, keep her busy with school and sports' activities. 
Keisha also is completing the requisite sweat equity hours as part of the Habitat program and has already helped with homes for other Habitat Partner Families. Participants in the Habitat home program also partake in required education classes about home management subjects and for her, financial management has been the most useful. "I didn't realize how important good finances and credit were in all parts of life," she said.
Keisha also credited her family Nurturer and her Nurturer' daughter, for their help along the way. "She's been sort of a second mother figure. She doesn't press me or push, she just says, 'now Keisha, how are you going to do this?' She helps me plan and think things through."
Keisha is considering several options for her first home—possibly a rebuild or remodeled home-- which may give her a little more space and might be available sooner. The location is important because she wants the girls to stay in their current schools.  While she considered keeping the house a secret from her children until she had a place, she couldn't.  When she told them, they were very excited and immediately asked if they could paint their rooms. 
"I've always rented and so we couldn't do that, or really do much of anything to make it ours," she said. "I'm in no rush to finish or make everything perfect.  I just want it to be mine…it's a dream I have had for most of my life—something that is just mine."  
"I can always work on some things later. I just want my kids to know that if you really want something you need to keep working for it. You never, ever give up," she said.