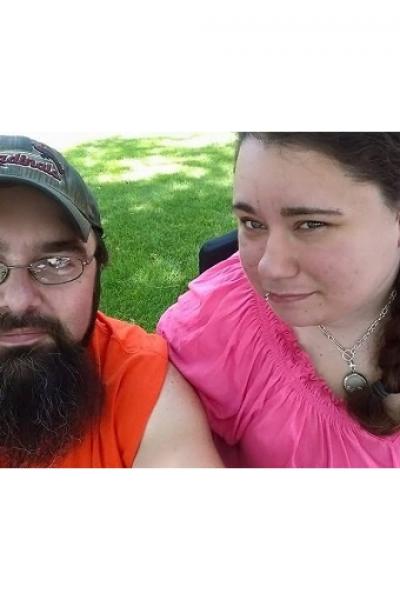 DEDICATED JUNE 30, 2017 - Kyla Overby and Tim Anders have big plans for their new Habitat home. Kyla imagines a nice craft room in one of the bedrooms, a big garden in the back yard, &maybe even bushes and fruit trees. Tim simply wants a home of their own.
Kyla and Tim currently live in a small apartment in a hi-rise building that provides accessible housing for disabled, low income, and elderly residents. In December, 2006, they were in a serious car accident, in which Kyla suffered injuries that left her unable to walk. She uses a wheelchair to get around and Tim helps her with her day-to-day needs. Tim also works to support them financially, since Kyla has been unable to work since the accident. They didn't think they would ever be able to move into their own home because of their income, but it was something they both wished for.
When they learned about Habitat, they didn't think they could qualify for the program, but decided to give it a shot. They applied, qualified, and were accepted to the program in 2013. Tim and Kyla have been diligent volunteers, building up sweat equity hours. Kyla has volunteered in the Habitat office and with fundraisers, and Tim has volunteered at the ReStore, as well as helping with the program's fundraisers. Together, they have put in the hundreds of hours of service necessary to qualify for their own home, and now are starting to imagine how it will look.
Kyla makes jewelry using a variety of materials, including duct tape and hemp. She hopes their new, accessible home will have three bedrooms, so she can have a room dedicated to crafting. In their small apartment, her craft materials are spread over everything. "I really want to have a craft room, where I can store supplies," she said, and where she can work on her jewelry designs.  "I think it can be done," she said, "I hope." 
 Dreaming about their future home has helped ease the anxiety of waiting for funding to be secured. It hasn't been easy, but they have had help from Habitat Nurturer, Cheryl McKnelly. A longtime Habitat supporter, she has volunteered in Habitat programs focusing on supporting future homeowners like Kyla and Tim. Future homeowners participate in classes on finances, insurance, wills and estates, credit scoring, safety, simple home repairs, and maintenance, to name a few.
Their new house will be built in a neighborhood Kyla said that "has a small town feel."  It has what they describe, as an ideal lot. Both of them are really excited about the location. "It felt like home," Kyla said. "It's huge! I fell in love with the lot. I might fence it in someday. I'd like to plant a big garden," she said, adding, "and maybe bushes and fruit trees.  I'd like to start canning."