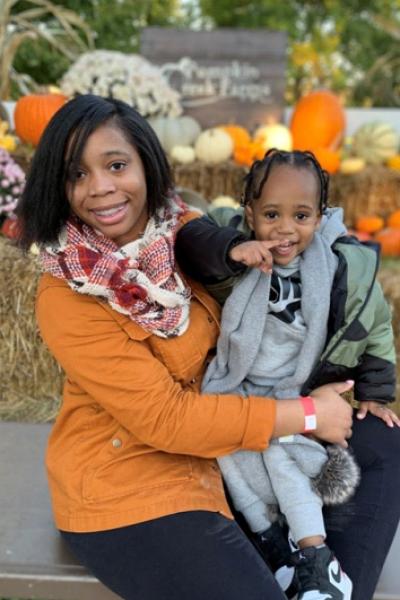 Lasaja Crawford not only works a full-time job, but is also a full-time student at Lincoln Land Community College, and the mother of two-year-old Jayceon Hemingway.
Even with that full schedule, she is excited to be adding in volunteer hours toward a home of her own with the Habitat for Humanity of Sangamon County homeownership program.  Being a Partner Family, she is required to complete 250 sweat equity hours, in construction, fundraising events, and volunteering in the ReStore, to name a few. She will also attend monthly education classes on homeownership throughout her time in the program. Lasaja can hardly wait to build with volunteers and move into her own home.
Currently, she and her son are sharing a room at her mother's house in Springfield. It's a busy life for the single mother, but she was thrilled when she was notified by Habitat that she was accepted into the homeownership program, and the opportunity to work toward owning a Habitat home.
Her main goal, she said, is to get into a safer neighborhood. She has not yet picked out an area to build, but that will come after she has put in the requisite sweat equity hours, including helping others build their homes.
"I'm concerned about fitting in all my sweat equity hours with school and work, but it will happen," she said. "It will be so worth it in the end."
"I want my son to have a home, his home," Lasaja said.  "I'm very excited about it. I've got a lot to learn, about – insurance, home repairs, finances – but I'm looking forward to it."