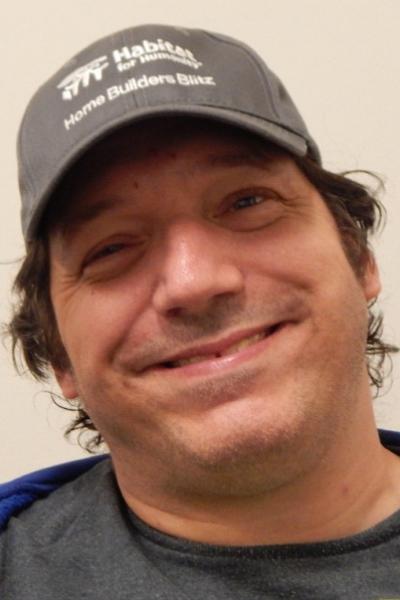 Dylan Prevost was a valued Habitat for Humanity of Sangamon County volunteer for years before he decided to apply to the program for a home of his own.
A long-time renter, who has had problems with an apartment that is too tight for the wheelchair he must use, Dylan learned in September that he was accepted into the Habitat home ownership program. He has already begun volunteering and will soon start the homeowner education classes.
Born with cerebral palsy, Dylan has used a wheelchair most of his life. He is dreaming of a home that is handicapped accessible with a walk-in shower and wider doorways that accommodate his chair.  Because there will be plenty of closet space, he will have a place to keep holiday decorations. "I'll be able to decorate for the holidays. My space is tight now and I don't have any storage."
Dylan, who moved to Springfield from Alpena, Michigan in 2013, said it was one of the best decisions he ever made. He has family near Springfield and friends who are anxious to help build his house with him.
"I've always wanted a home of my own. I've been waiting quite a while," he said. "I'm 45 years old, I have a job and I'm financially able now. It's time to take the first steps." Habitat for Humanity of Sangamon County "is like a key that opens other avenues," Dylan said. "I feel it would be impossible for someone in my position to get a conventional loan. This program is a Godsend. I am volunteering and I'll concentrate on getting all my hours in until I get on the build list."
Dylan knows that his late father would be happy that he is on the path to home ownership. "It was always my dad's dream, too, that I would have a home, a place of my own, that works for me. The time is right," he said.