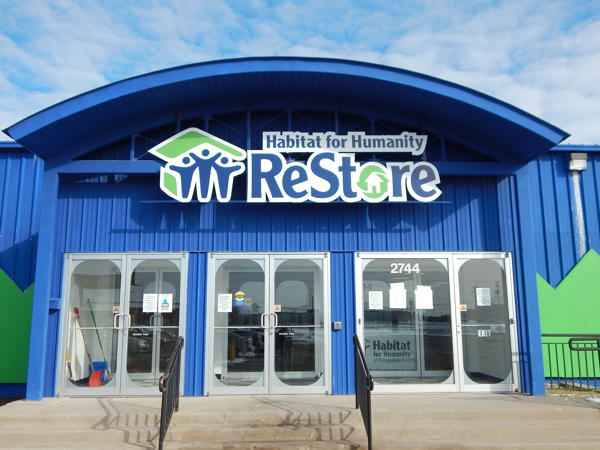 The Habitat ReStore
Habitat for Humanity of Sangamon County's ReStore is the place to shop for new and used home goods and building materials at affordable prices! Some items available for purchase - small & large appliances (new & used), furniture, antiques, flooring, home décor, cabinets, outdoor tools (lawnmowers, snowblowers, trimmers, etc.), windows and doors, bathroom & kitchen fixtures, tables and chairs.
The ReStore also accepts donations, subject to customer demand, from contractors, suppliers, individuals and organizations. All items for acceptance are subject to ReStore staff discretion.
The ReStore then sells these goods to the general public to help fund the construction of new Habitat houses within the local community. The ReStore performs a valuable community service by diverting large amounts of reusable materials from landfills and providing these products to the public at affordable prices.
ReStore Remix
Habitat for Humanity of Sangamon County is offering the public the opportunity to express their "do-it-yourself" talents while helping people in need. ReStore Remix was developed as a series of repurposing classes that focus on using donated materials to create works of art that can be taken home or given to Habitat families to brighten their lives. Adult volunteers, 18 and older,  who are passionate about Pinterest projects, the recycling of materials and becoming more involved in their local community are invited to participate. Occurs the second Saturday of every month, 3-5pm. Registration & payment must be received in advance of session. Closed toe shoes are required. Bring water and snacks for your personal needs.  
Chill & Build
If you like pallets, projects and being creative join us in the ReStore. Adult volunteers, 18 years and older, not only have fun, but are improving Sangamon County by helping Habitat For Humanity end poverty housing. Whether you paint, build or something in between, there's always a new project to work on and plenty of ideas to share. Occurs the second Saturday of every month, 10am-2pm. Space is limited - closed-toe shoes and advanced registration are required. Bring water and snacks to suit your personal needs and join us for this FREE opportunity to build the future!
Eligible City of Springfield residents who would like to use the city's free large-item pickup service may go online to book a large item pickup or call Habitat for Humanity of Sangamon County, Monday through Friday, 9am-4pm, at 217-523-2710. City of Springfield residents are eligible to have a maximum of six large items picked up annually. City of Springfield residents can schedule a one-time pickup of six items or two separate pickups of no more than three large items.
Acceptable items include, but are not limited to, couches, entertainment centers and other furniture items, mattresses, box springs, 5 x 10 rolls of carpet, filing cabinets, water heaters, window-unit air conditioners, appliances, grills, basketball hoops, trampolines, and pool liners. 
Not eligible for large-item pickup:  hazardous items such as tires, TV's and other electronic goods, central air conditioning units, landscaping items, railroad ties, paint or hazardous substances, remodeling waste, and scrap metal. 
Your Treasure Hunt Begins
ReStore & Donation Center Hours of Operation:
Sunday-Monday: Closed
Current Open Hours:
Tuesday - Friday: Open for donations and sales from 10:00 a.m. - 6:00 p.m.
Saturday: Open for donations and sales from 10:00 a.m. - 5:00 p.m.
Our Donation Center is located on the southeast side of the building. Thank you!